2018 FIRST Championship - Detroit - Curie Subdivision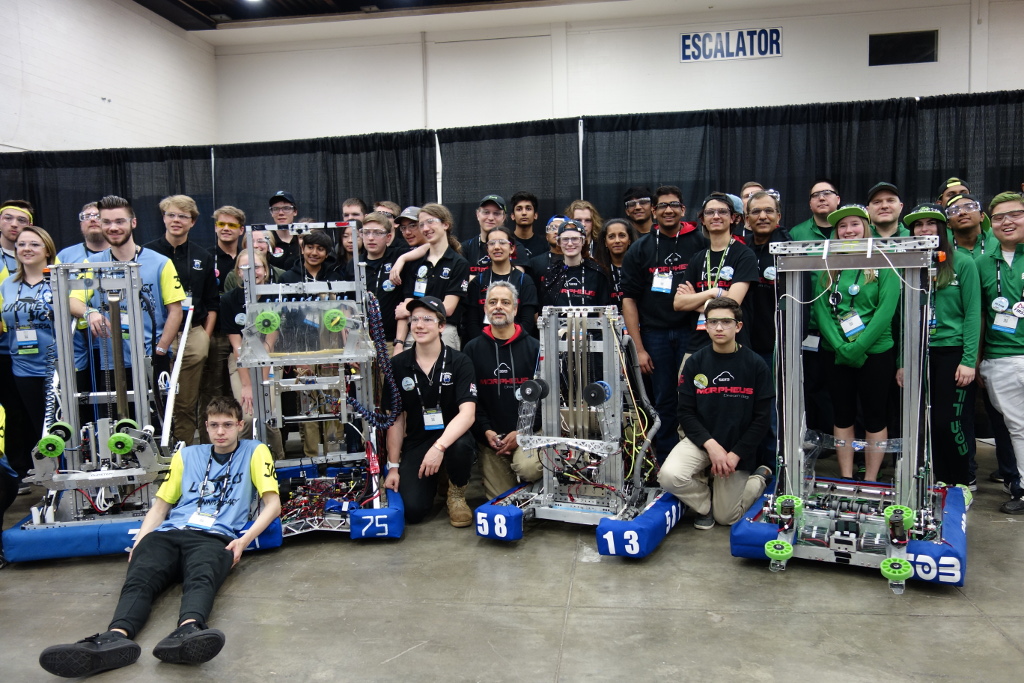 On Tuesday, April 24, 2018, members of Team 5813, Morpheus, trekked from Concord, New Hampshire, to Detroit, Michigan, to compete at the first ever FIRST Championship - Detroit. Immediately after setting up our pit, we fixed some intake wrist issues and attached our new climbing mechanism. Once everything was mounted, we spent the rest of the day cabling and tuning the hook deployment as well as exploring the new vast venue of the Cobo Center. We were glad that we had a fairly short walk to both the field and the practice area. After running our practice match and discovering some tweaks that were needed for our climber, we travelled to the practice field to tune both our climber and our autos.
The next day, we won all four of our qualification matches with three ranking points each. On Friday, we had six more qualification matches. Of those six, we won five and earned 18 more ranking points. In our last qualification match, we placed eight cubes in the scale! At the end of the qualification tournament, we were excited to be rank seven with a ranking point average of 3.0! On the morning of the last day of the Championship, we started transporting our pit equipment over towards the elimination pit area to prepare for the quarterfinals. During alliance selection, we became the captain of Alliance 5. For our alliance, we chose Team 2175 (The Fighting Calculators), Team 316 (LUNATECS), and Team 503 (Frog Force) to join us. After alliance selection, we quickly set up our eliminations pit and strategized with our partners. Going into our quarterfinal matches, we were hopeful that we would advance to the semifinals. Unfortunately, in our first quarterfinal match, our elevator had an issue, 503's intake broke, and 2175 fell from their climb and broke their elevator. Despite these setbacks, we reworked our strategy and subbed 316 in for 2175. In the next match, everything was going great, we controlled our switch and the scale. Then a bit over halfway through the match, our alliance accidentally knocked two cubes off of our side of the scale. This gave control of the scale to Alliance 4. Unfortunately, we were unable to regain ownership of the scale and ultimately lost the match by 51 points. Although we had just been eliminated, we were proud of our alliance and team for our performance and our ability to compete at a world class level. We had a great time working with 2175, 316, and 503, and hope to work with them again soon. After taking alliance pictures, talking with our alliance partners, and cleaning up our eliminations pit, we moved to the lobby to take team pictures with the giant FIRST logo. Once we had taken our pictures, we started to load up our crate and watched the Curie Subdivision finals. Morpheus would like to congratulate Team 3707 (Brighton Technodogs), Team 195 (Cyberknights), Team 333 (MEGALODONS), and Team 70 (More Martians) on winning the Curie Subdivision! Until Einstein started, we finished loading our crate, congratulated our pit neighbors and friends on Team 195 on winning Curie and representing New England on Einstein. During the Einstein Round Robin, we cheered for the teams and had a great time watching the high level of play on display in Detroit. Immediately following the round robin, we helped Team 195 move their Einstein pit back to the Curie pits and then talked with Team 1241 (Theory 6), the Tesla Subdivision winners, about their robot and build season schedule. We were excited to head over to the Ford Field and watch the Daly winners face off against the Carson winners in the thrilling Einstein Finals! Morpheus would like to congratulate Team 2767 (Stryke Force), Team 27 (Team Rush), Team 2708 (Lake Effect Robotics), and Team 4027 (Centre County 4-H Robotics) on winning the 2018 FIRST Championship in Detroit! Overall, Morpheus had a great time at the 2018 FIRST Championship; we competed hard, ranked 7th, became alliance captains, and made it to the quarterfinals! Morpheus hopes to compete at the FIRST Championship in Detroit again next year.